Free Patterns
here to join my Yahoo group and have me send you news about the latest free patterns
Sale Patterns
I Want to Knit
Wednesday, October 31, 2007
some goodies
I forgot to show off some new yarn I got on Monday of this week. My Blue Moon order arrived, finally, after sitting at customs for about 3 weeks. See, when I'd placed the last order with Maaike, Yannick was really taken with how soft and luxuriuos the yarn felt. He offered to treat me to a skein if I'd knit a pair for him. How can I refuse an offer like that???

I chose the Fire on the Mountain colorway for my pair. I had a hard time deciding between this one and Sherbet, but in the end the darker colors prevailed. I still might order Sherbet in the future though...


Look at the colors!

I think this will look great on my feet! I might browse Ravelry to see which patterns others have used, but I'm thinking of either doing stockinette with a bit of a rib, or possibly a feather and fan leg. I'd like to see how this knits up before I decide officially.
After some further deliberation, Yannick chose Obsidian for himself.

I took a closeup of the yarn because you can't really tell from the above photo, but it is actually a blend of black and brown.

I will try and get him to agree to a pair of Potomotopomotomoses, or Rpms or Cablenets but will (probably) wind up doing stocking stitch with something fancy added to relieve the boredom. I think I might do 2 tiny cables and maybe make a similar pair for myself with a row of eyelets between the cables. Hmm...

Now that Jakob is actually reaching for and grabbing for his toys, it is more fun to introduce new toys to him and see how fast they get yanked into his mouth. This week I introduced him to Sheldon for the first time. The boy and his turtle got along well, and Sheldon was only slightly sucked on before being discarded in favor of toes.

Oh, and one more thing...

It's done.


Tons of photos and all the details in my next post. Happy Hallowe'en!

Labels: FO, Sheldon, stash enhancing, Superman Costume
posted by Jennifer Lori @ 3:34 p.m.


Sunday, October 28, 2007
where did last week go?
Whoops! I kept thinking I'd posted, but it looks like I missed a few days. Here's the brief recap:


Mommy with Jakob at 23 weeks. I made a slight mistake in the last weekly photo, I'd accidentally labeled it 21 weeks, but it was 22. Not that any of you care, but I've fixed it. (No, I didn't paint that picture, one of Yannick's cousins did).

The week was spent sick, recovering, knitting, wash, rinse, repeat. Yannick was around all weekend, which was nice because it gave me a bit of a break from all the hands-on mothering. Jakob isn't sick but he is a bit congested and has been coughing once in a while, although it is hard to tell the real coughs from the fake ones he does for fun. Still, we've been home all week and he's been very clingy, so it was really nice to have Yannick around.

Next weekend will be interesting. I have an all-day Fiona Ellis workshop on Sunday, and Yannick will be watching Jakob all day. Since he doesn't take bottles any more, and I'll only be a 5 minute drive from home, Yannick is going to bring him to me each time he needs a feeding. I think I'll be gone for 2 or 3 feeds. It's a strange set-up, but the only other alternative that doesn't involve Jakob screaming for 8 hours and going the entire day without eating is me bringing him with me, and call me selfish but I don't see the point in paying for a class when I can't properly learn because my hands are full with my son. I love him to pieces but I don't think one 8 hour workshop is too much to ask to have my hands to myself.

To prepare Yannick for the day when I'm really not around (and to give me a day of relaxation) I've decided to spend next Saturday pretending I'm not home. My goal is to lounge in bed all day with my knitting and our laptop and to catch up on blogs and rest. Yannick will take care of Jakob and only bring him to me for feeds. That might sound like a wierd thing to do, but I think it will be good for Yannick to practice having Jakob for an entire day while I'm there if he has any questions, plus it will give Jakob a chance to bond with Yannick more but still know I'm around, and it will give me a chance to take a mini-vacation in my own home. This mommy job is 24/7, I'm the one who can soothe Jakob to sleep, I'm the one who has to feed him, so I'm ALWAYS the one to get up, regardless of the time of night. Yannick sleeps like the dead so he doesn't even wake up if Jakob's death alarm goes off (the mattress sensor that goes off if he stops breathing...it has always been a false alarm but worth it to me to have) so I'm literally "on call" 24 hours a day, without a break. I know I can't even relax in my sleep because Yannick won't hear the alarm or wake up if something is wrong, so even my sleep isn't really a full sleep because I'm always "alert" in case something happens. So yeah, I'm going to take some time for myself, while still being here for both of my boys.

This past weekend we took Jakob to a Montreal landmark. I was hoping for an outdoor picnic lunch, but it was POURING and Jakob was asleep, so Yannick and I ate in our car.


I haven't been to the Orange Julep in about 14 years, and now that we had our rediculously overpriced hot dogs, fries and famous orange julep, I'm good for another 14 years or so.
Tonight we went to a knit-out that Robyn organized. I think I met everyone quickly, but to be honest I was a little overwhelmed with how few people I knew and was too embarassed to ask for everyone's names. I was admiring everyones projects though, even if you thought I wasn't looking! (By the way, if you were there and have a blog and happen to be reading this, please send me a link!) Quite a number of cafe patrons came over to exclaim about our "knitting class", and a special shout-out goes to the woman who asked if Jakob was my son, and then commented on how young I was to have a child. I said I wasn't that young, and she said I looked about 18. I was very happy to tell her that I am, in fact, 30. :) THAT made my night!
And finally...it's almost done.
Just have a hemmed neckline to sew down, and snaps to sew onto the back.

And a cape to make. Every superhero deserves a cape, no matter how young or inexperienced at flying.
Labels: Superman Costume, WIP
posted by Jennifer Lori @ 10:22 p.m.


Thursday, October 25, 2007
superprogress
Up...up...and away!
This is where we were at with Jakob's costume as of last night. I didn't realize the sleeves were too short, so today I'm going to add at least another inch to each sleeve, then I will be joining the body to knit the yoke in the round. Timing will be the deciding factor on whether or not I knit him a cape.
Labels: Superman Costume, WIP
posted by Jennifer Lori @ 11:31 a.m.


Wednesday, October 24, 2007
omg- you HAVE to watch this!
My brother sent me this link...you have to watch this, it's hysterical!

http://www.ffk-wilkinson.com/

The link is for a short trailer, followed by the option to download a game. You will need the sound on, but it is safe for work...if your work doesn't mind you watching movie-esque trailers at work.

Thanks Aaron!
posted by Jennifer Lori @ 9:58 a.m.


Tuesday, October 23, 2007
um...ok
A little while ago I was at CNN's website looking at photos of the LA fires. I have a friend who lives in LA and I wanted to see what has been happening there. In the sidebar of CNN's page was this anti-wrinkle ad. They did their best, I'll give them that...but seriously, are we really expected to believe this? Come on! Hold your hand over one side, then over the other. I'm guessing it is one woman, with some serious photoshopping done on the "old" side of her face. Oy.

In other news, still sick. Still feeling crappy. Still haven't knit yet. Jakob fell asleep so I'm going to try, just as soon as I make a big pot of tea.

posted by Jennifer Lori @ 1:59 p.m.


Monday, October 22, 2007
no knitting
I did not stay home today. I did not knit today. Today I went to the doctor. Doctor says I have a virus. Know what's fun about a virus? Nothing. Especially when you're breastfeeding and can't take the nice medicine that makes one extremely drowsy and takes the edge off of the extremely raw throat, the sore face, the runny nose, the cough and did I mention the raw throat? Since I can only take that nice medicine (Hycodan syrup, if you're wondering) in very small amounts and only just before bed after feeding Jakob for the last feed of the night, my daytime hours are limited to a medicated gargle and saline nasal spray. And tea, ice cream, soup, yogurt, anything either cold or hot that I can slide down my throat.

So...no knitting. Maybe tomorrow. I think I'm going to hibernate this week.
posted by Jennifer Lori @ 9:13 p.m.


Sunday, October 21, 2007
super sleeves
I have a secret project. I can't talk about it when I'm listening because I promised myself I wouldn't say anything. However, I didn't promise myself not to show a quick photo of the secret yarn.


Isn't it gorgeous? It's from Fleece Artist's finer line, HandMaiden. It is called Sea Silk, is 70% silk and 30% Sea Cell and is so soft! You can't really tell from the photo but it is actually a very soft variation from a pale, almost buttery green to a color I can closest describe as "banana". I love it!

My ball winder is still packed somewhere, so Yannick was very gracious and held his hands up in the football goalpost position for about a half hour while we watched a taped episode of CSI: Miami and I wound this ball by hand. Looks are deceiving- the wound ball is only about 3 or 4 inches high, but it is heavy!


Since we will be starting to introduce Jakob to solid foods in about 2 weeks, I wanted him to get used to sitting in a high chair. Our second hand one is still at my parents' house, so we finally opened up the one we'd recieved at our baby shower. Yannick put it together and we let Jakob have a test run.


With Hallowe'en fast approaching, I know my time is running out on Jakob's Superman Costume. I didn't get as much done as I would have liked to this past weekend, but I did finish the sleeves.
I know they look short, it is because that is only the sleeves to the armpit. I will be joining them to the body and working the yoke with the sleeves as one piece. I also finally got around to charting the S (did I mention that already? I can't remember...) and will be trying to knit like mad this week. I'm hoping to avoid leaving the house tomorrow so I can knit like crazy when Jakob naps. Wish me luck!



Labels: stash enhancing, Superman Costume
posted by Jennifer Lori @ 11:03 p.m.


autumn
Mommy with Jakob at 22 weeks.
I went to my LYS on Friday and did a little stash enhancing. I know, I know, sock yarn is the
LAST
thing
I am
running out of
, but I couldn't resist the colors! I had been at the mall on Wednesday when the LYS got in their latest shipment of Regia, and I loved the mix of black, gray and red in this colorway:
Unfortunately I had to wait until Thursday for them to enter the new yarn into their database, so that I could actually buy it. After playgroup I stopped in at the mall on my way home and snapped up a ball for myself and one for Maaike. I had already paid and was on my way out the door when I saw this little number:

I couldn't resist those browns!
Later that day I went to the park with Maaike and Erika. The weather was perfect for Fall, breezy and cool with that slight smell of rain in the air. A lot of the leaves around had already turned orange and fallen off of their trees, and there were HUGE piles of leaves all around the park. We got some really great photos of the kids. I LOVE this one that Maaike took for me:
I couldn't resist plopping Jakob into one of the great big piles and taking a few photos. I would have had some better ones but he kept moving, and once I finally got him to stop wiggling he kept trying to eat the leaves.
This is my absolute favorite season. Happy Autumn everyone!

Labels: stash enhancing
posted by Jennifer Lori @ 12:07 a.m.


Friday, October 19, 2007
five months old
By five months, your baby
...should be able to:
-hold head steady when upright CHECK
-on stomach, raise chest, supported by arms CHECK
-pay attention to an object as small as a raisin CHECK
-squeal in delight CHECK
-reach for an object CHECK
-smile spontaneously CHECK
-smile back when you smile CHECK
-grasp a rattle held to backs or tips of fingers CHECK
-keep head level with body when pulled to sitting CHECK
...will probably be able to:
-roll over (one way) CHECK
-bear some weight on legs CHECK
-say "ah-goo" or similar vowel-consonant combination CHECK
-razz (make a wet razzing sound) CHECK
-turn in the direction of a voice CHECK
...may possibly be able to:
-sit without support FOR A SPLIT SECOND
...may even be able to:
-pull up to standing position from sitting WITH HELP
-stand holding on to someone or something CHECK
-object if you try to take a toy away DOES HOLDING ON TIGHT COUNT?
-work to get a toy out of reach CHECK
-pass a cube or other object from one hand to another CHECK
-look for dropped objects I DON'T KNOW
-rake with fingers a tiny object and pick it up in fist ONCE OR TWICE
-babble, combining vowels and consonants such as ga-ga-ga, ba-ba-ba, ma-ma-ma, da-da-da HE DOES THE BA-BA-BA ONE SOMETIMES
I wonder why the book doesn't mention his newest favorite passtime- yelling! If we ignore him or leave him alone for a bit, he starts to yell or shriek, sometimes even "calling out" to try and get us to come back.
In knitting news, here's the latest progress on the Superman Costume. I've stalled here because I now need to chart out the upper body with the big S logo on it. Once I get around to that I will be able to continue. I love how it is coming out so far!
Labels: Superman Costume, WIP
posted by Jennifer Lori @ 10:47 a.m.


Wednesday, October 17, 2007
5 months down...
Jakob is 5 months old today. I look back at photos and video of the squishy little dark-haired infant I brought home from the hospital, and can't even see the resemblance to the bright, alert, active, pale and fair-haired, solid little boy I get the pleasure of seeing every day.

I know this post should have photos, but my camera is downstairs and truthfully I'm too tired and lazy to go get it. I am planning on getting up early to go meet up with a stroller walking group in the morning, which means I need to go to bed earlier than my usual 1:00am or later.

So I will be going to bed as soon as I search the internet for a Cliff-Notes version of Beowulf so I can summarize the story for Yannick (who looked intrigued by the upcoming movie so I made the mistake of telling him I'd read it in university, which I did...but that was almost 8 years ago).

Check back here tomorrow for my usual monthly summary, along with some cute photos and the latest on the Superman Costume.

p.s. Happy Anniversary Julie & Rich!
posted by Jennifer Lori @ 11:11 p.m.


Tuesday, October 16, 2007
halfway super
Today I took Jakob on some errands, and he looked so cute in his little black hoodie that I just had to share this photo.

We went to the post office because I was hoping my Blue Moon order was in, but it turned out just to be Jakob's passport. Something about his little baby face in a passport really cracks me up!

In the evening Maaike and Erika came over for a knit-night. Robyn was supposed to come too but Sean was sick so they stayed home.
I regret to inform you that not a stitch was knit all night. However, much playing was done and yummy supper was made and enjoyed by all.

Hopefully, once Jakob goes to bed, I will get a chance to keep working on his costume. In the meantime, here's a progress shot:


We're halfway there!


Labels: Superman Costume, WIP
posted by Jennifer Lori @ 8:26 p.m.


Sunday, October 14, 2007
success!
I tried the costume on Jakob and with the increased leg length, it fit great! Yay! The short row shaping in the tushie area worked great to add room for the diaper too. I'm going to fix the other leg, then add another 3 or so rows of short rows in the back, and 3 in the front (also for the diaper bulk) before continuing.

I think this costume thing just might work out!

Labels: Superman Costume, WIP
posted by Jennifer Lori @ 6:05 p.m.


Saturday, October 13, 2007
just a typical saturday night
Any major knitterly repairs had to wait until tonight, since we had a birthday party this afternoon. One of my best friends' son turns 2 this week, and our little family was invited to his party. I'm not going to post photos of them since I forgot to ask permission, but I am going to post a different photo (hi Debbie!) to my friend Debbie who is one of the very few non-knitters who reads my blog.

Jakob's friend Taylor was at the party too, since we've known her father since high school, and her mom for the last few years. Taylor is exactly one day older than Jakob.
Hey baby...come here often?
After supper tonight I decided to brave the Superman repairs. I took photos and will break down what I did, step-by-step. It turns out that while I've councelled others to do this same repair, I don't think I've actually done it myself before. It was much easier than I'd thought!
First I took a circular needle and wove it through the stitches, making sure to pick up the left bar of every stitch, and verifying that I had the correct number of stitches on the needle. You can also pick up the right bar, it doesn't matter as long as you consistently pick up the same side of each stitch.

Next, I grabbed a dpn and "picked up" stitches
2
rows below the one on the needles. I only picked up 6 sts at a time so the fabric wouldn't pull too tightly. Once I had the first 6 sts on the needle, I
CUT
one stitch on the middle row...the one in between the two rows on needles. I used a spare needle to unpick the yarn from those 6 sts, then took another needle and picked up the next 6 sts, unpicked the middle row, etc... (Yes, I left the scissors in the photo on purpose. Looks ominous, huh? LOL).
Once I'd done that all the way around the row I had the two parts of the leg separate. I was then able to add another 12 rows (1.5") in length to the foot part of the leg.

With the knitting done, I "tidied" up the two parts by arranging them on 2 dpns each, making sure that I had the front and back aligned properly (wouldn't want to sew the foot on crooked!). I left a really long tail for grafting, then cut the yarn.

Finally, I Kitchenered (grafted) the foot part to the leg. You can kinda see here how much length was added. I'm breastfeeding (and don't drink anyways) so I had a cup of Earl Gray as my fortification instead of the typical glass of wine. ;) I was about to do the second leg when Yannick suggested that I wait until after Jakob wakes up tomorrow so that I can try it on him first and be sure that I didn't add too much...or need to add more.

So there you have it. One leg lengthened by an inch and a half, with my first not-too-sucky graft. One more leg to go.
Labels: Superman Costume, WIP
posted by Jennifer Lori @ 10:51 p.m.


bad bum
:( One of the perils of designing your own knits, is that you don't have the (implied) guarantee of the knits working out. You could be whizzing along, thinking you've got this great piece of fabric goin' on, when all of a sudden- wham! Knitting speedbump.

I tried the costume on Jakob last night, and while it fits...I'm not super happy with it (no pun intended!). The legs don't seem to be long enough so the "underwear" line falls in the wrong spot. It also appeared to be pulling a bit around the waist.

I added some short row shaping for the tushie area to take the excess bulk of a diaper, and have decided that there is no alternative for me but to lengthen the legs by about an inch and a half each. I refuse to rip back so I will be taking the other way out- cutting, reknitting, grafting.

Photos to come...once I get up the desire to actually take scissors to it...
posted by Jennifer Lori @ 11:27 a.m.


Friday, October 12, 2007
bum bum ba bum
We have a bum! A Super-Bum to be exact. Hopefully by tomorrow we'll have a Super-Belt and at least part of a Super-Belly.
Labels: Superman Costume, WIP
posted by Jennifer Lori @ 12:41 a.m.


Thursday, October 11, 2007
two for one
I just realized I forgot to post last week's "weekly" photo, so here it is:


Mommy with Jakob at 20 weeks
I also forgot to mention that this past Tuesday we went into Laval and met two really nice knitters,
Tara
and the blogless Kate. We had a great time! I love meeting other moms with young kids who don't think I'm crazy for knitting in my (free) time, and of all the coincidences, Tara's youngest is 3 days older than Jakob!
I don't have knitting to show off just yet, since we only got home a little while ago and had supper and enjoyed some playtime with Yannick before he had to leave to go prepare a quote for work. We did some tummy time and introduced Jakob's new mirror and it really worked to distract him from fussing while on his tummy.
As soon as he goes to bed I'm going to join the legs of the costume and try and get a few inches done. I'll leave you with a photo from today, of Mommy with Jakob at 21 weeks. Ignore the pointy-ness of my chin and the yellow-ness of my teeth. In fact, ignore me and just look at the cuteness. :)

posted by Jennifer Lori @ 8:20 p.m.


Wednesday, October 10, 2007
two legs
For some strange reason I find this photo adorable. :) Two legs down, a body and two arms to go! My goal for tomorrow is to get the tighty-red-y part of the costume done...the underwear? bathing suit? short shorts? part. I'd like to say I'll get done all the way to the belt, but I think that's pushing it, since we have playgroup and stroller walking tomorrow. There IS good Thursday night TV though, so I'm hoping for a marathon knitting session.

Oh, and Lindsay...I think in all fairness, I DID ask people to guess, and you DID guess correctly, and that DOES deserve a prize! So if you can send me an email (off the blog) with your email address, and letting me know if you live in the US or Canada, then I can get your prize off to you! :)


Labels: Superman Costume, WIP
posted by Jennifer Lori @ 11:18 p.m.


Tuesday, October 09, 2007
quickly...
First of all, to Joolz...thanks for the tiramisu recipe! I'll have to try it out since it is Yannick's favorite dessert!

To Anonymous...our square dishes (with matching smaller plates, cups and bowls) were from The Baie from our wedding registry. We got 4 boxes (with service for 4 in each) for our engagement party from my 3 siblings. Unfortunately they were discontinued, but fortunately for us that meant the price was knocked down, which is why we ended up with the service for 16. I'm such a klutz that we are able to have enough for our everyday use and have spares in case some break!

And to Lindsay...congrats! You are the first to guess the costume correctly! I bet you wish I'd offered a prize to the first correct guess, huh? :) Jakob WILL be Superman for Hallowe'en!
posted by Jennifer Lori @ 5:25 p.m.


Monday, October 08, 2007
$%*&
I'm so mad. I'm SO mad. I have no one to be mad at but myself, but I am really, really so f*ing mad.

On Friday I ran a load of laundry before leaving the house for the day. I wanted to wash all the blankets and such that all the babies had touched/used during the playgroup, plus Jakob had spit up a few times and I didn't want to leave his clothes in the hamper with milk on them. I also had the finished Montego Bay Scarf that I wanted to wash then let air dry before I gave it away. I ran the load, left for music class, then went to my parents' house, and completely forgot about the laundry until I got home around 10pm.

Luckily (?) my mom had bought us some long-sleeved onesies in Plattsburg and Jakob had spit up again, so on Saturday morning I threw the new stuff into the washer with the old, damp load, refilled the machine and ran it again. I never looked at the clothes until I pulled them out of the washer on Saturday afternoon, ready to toss them into the dryer. I was eagerly waiting to pull out the Montego Bay Scarf to see how the Online sock yarn had held up to the washing... when I saw this:

And this:

&%**. I had accidentally left a velcro-closing bib in the laundry. I NEVER wash the bibs mixed in any more, I only do loads of ALL bibs, because I've had enough of the velcro getting caught and making a mess of our stuff. And now, the one time I forget to double-check it ruins not only a hand-knit, but something that isn't even for me! It's for charity! I'm SO mad. I will do my best to pull out the slack and weave in the end that got caught in the first photo, but there is nothing I can do for the run in the second photo. The yarn is actually torn. I will have to cut it just below, pick it out slowly and bind off, losing the extra foot or so in length. As a small miracle, the scarf grew in length after being washed, so losing the extra foot won't really matter. What does matter to me is how fuzzy the scarf looks now after having velcro run along it. It doesn't look "new" any more and I'm afraid they will think I'm donating a used scarf. I'm so mad.

In other knitting news, here is a project that is going well:

Yup, this is Jakob's Hallowe'en costume progress.

C'mon, by now you should know what it is!

I couldn't resist this shot of him modeling the work so far...you can see all the best parts- baby feet and that adorable grin. :)


Labels: Montego Bay Scarf, Superman Costume, WIP
posted by Jennifer Lori @ 10:24 p.m.


i thought i was done
The running around to cook and prepare food was supposed to end on Thursday after the playgroup. But no.




Yannick's parents are leaving for a month in Florida this week, and whenever they come and sleep over, they usually only get here after he's already in bed for the night, and they leave in the early morning while he's napping between feeds. This time we asked them in advance to leave their dinner plans for Saturday night free, and they came over for supper. Then Yannick's sister invited us all to brunch on Sunday, and asked me to prepare a "famous" dessert recipe that I got from my mom. That meant that Saturday morning I ran to the store (leaving Jakob with Yannick) and bought a lot of groceries, and spent my entire day standing up and working in the kitchen. Literally the whole day, just ask Debbie who came over and helped out immensely by playing with Jakob so I could keep working- thanks Debbie!





Yannick ran to Costco and picked up the meat for our supper- 2 YUMMY packages of lamb chops that have already been marinated and are ready for the barbeque. Everything else that we ate was up to me, so let me present the feast of food:





This mix of peppers, tomatoes and onions...







...was thrown into a Ziplock. I also poured in about 3/4 of a cup of olive oil, a ton of garlic and some salt, and let it sit, flipping the bag over every few hours.



In the meantime I soaked some wooden skewers in water, then right before the meat went on the grill I "kebabed" the veggies. I made 16 skewers, WAY too much for 4 people, but now I have leftovers!




I tried out 3 new recipes too. First was this one for Toasted Cheesy Nibbles. The cheeses got mixed together (ignore the garlic, that was from another recipe) and rolled into the seasonings and nuts, which led to...






...this. There were originally 15 cheese balls each of the nuts, chives and paprika. I forgot to take an earlier photo.



Another recipe that was new and turned out really great was this one for Garlic Butter & Pine Nut Tarts. Cut a circle from the whole wheat bread for the tart base, mix up the pine nuts, butter, garlic and leftover bread, garnish with some olives, and...

...4 really yummy tarts. I would make these again any time, they were delicious and only took 15 minutes to prepare and 15 minutes in the oven, plus I was able to prepare them early and leave the tray in the fridge until it was time to bake them and serve.

They were really, really good. :)

The last new recipe was one that I decided to make up. Last minute I realized I didn't have a dessert planned, so while I was buying the ricotta cheese for the balls I saw the mascarpone and decided to "whip up" a tiramisu (Yannick's favorite dessert). I had made one a few years ago with a recipe from an old coworker and it was hands down the best tiramisu either of us have ever eaten. Unfortunately I lost the recipe, and the coworker's name. I decided to wing it and try and invent a new recipe.


I had the right ingredients (I decided to skip adding egg yolks and alcohol 'cus I'm breastfeeding) but to be very honest I wasn't happy with how it came out.

It was eaten anyways, and we brought the second half to the brunch on Sunday where more was eaten, but I wasn't thrilled and wouldn't remake my recipe. I think I'm going to try and find my old coworker on Facebook and ask for the recipe again! (Gotta love Facebook...LOL)





Finally was the "famous" dessert for Sunday, the Skor Trifle. Only 4 ingredients (I forgot to take the Cool Whip out of the fridge for the photo) and so easy to make when you can actually find Skor chocolate bars to smash. I couldn't find any, so I cheated and bought bags of the Skor Chipits instead.



Of course, I forgot to take a photo of the finished dessert, and there is never any leftovers so I can't even show you that. Just picture a nice, clear trifle bowl, with decadent layers of brownies, chocolate pudding, Cool Whip and toffee bits, repeated over and over until the bowl is almost overflowing, and all topped with a final sprinkling of toffee. I don't like chocolate, and I love this dessert too.

Since this IS a knitting blog, here's an "in progress" shot of where Jakob's Hallowe'en costume has been stalled since Friday night.

One red foot.

Labels: Superman Costume
posted by Jennifer Lori @ 11:06 a.m.


About Me
Name: Jennifer Lori
Home:
Ravelry Username: jenniferlori
About Me:
See my complete profile

Click here to add yourself to my Frappr map!
Email Me
jeloca[at]sympatico[dot]ca
Previous Post
Where to Get Patterns, Help or Other Stuff
Links to Errata
Podcasts I Listen To
Groups
Secret Pal 12 Questionnaire
---

---
the montreal knitting guild
---

---

---


Join | List | Previous | Next | Random
---


Previous | Next

---


Previous | Next
---

---


previous | next
---


Webring is owned by
handmade by jennifer
Previous | Next | List
---
Blog Canada
Previous | Next
Join | List
---
Master Knitters Ring
Prev | Next | List | Random
---
Knitalongs I've Done
---
---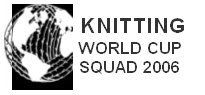 ---
Archives
Labels
Template by