Free Patterns
here to join my Yahoo group and have me send you news about the latest free patterns
Sale Patterns
I Want to Knit
Monday, October 22, 2007
no knitting
I did not stay home today. I did not knit today. Today I went to the doctor. Doctor says I have a virus. Know what's fun about a virus? Nothing. Especially when you're breastfeeding and can't take the nice medicine that makes one extremely drowsy and takes the edge off of the extremely raw throat, the sore face, the runny nose, the cough and did I mention the raw throat? Since I can only take that nice medicine (Hycodan syrup, if you're wondering) in very small amounts and only just before bed after feeding Jakob for the last feed of the night, my daytime hours are limited to a medicated gargle and saline nasal spray. And tea, ice cream, soup, yogurt, anything either cold or hot that I can slide down my throat.

So...no knitting. Maybe tomorrow. I think I'm going to hibernate this week.
posted by Jennifer Lori @ 9:13 p.m.


About Me
Name: Jennifer Lori
Home:
Ravelry Username: jenniferlori
About Me:
See my complete profile

Click here to add yourself to my Frappr map!
Email Me
jeloca[at]sympatico[dot]ca
Previous Post
Where to Get Patterns, Help or Other Stuff
Links to Errata
Podcasts I Listen To
Groups
Secret Pal 12 Questionnaire
---

---
the montreal knitting guild
---

---

---


Join | List | Previous | Next | Random
---


Previous | Next

---


Previous | Next
---

---


previous | next
---


Webring is owned by
handmade by jennifer
Previous | Next | List
---
Blog Canada
Previous | Next
Join | List
---
Master Knitters Ring
Prev | Next | List | Random
---
Knitalongs I've Done
---
---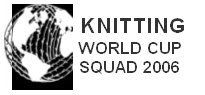 ---
Archives
Labels
Template by