Free Patterns
here to join my Yahoo group and have me send you news about the latest free patterns
Sale Patterns
I Want to Knit
Saturday, February 05, 2005
Just a Quick Post
Last night we invited my cousin Jon over for dinner, then we went bowling. Well, it was more like Jon and Yannick bowled, while I sat and knit. I also seemed to entertain a Yugoslavian bowling league that was in the lane right next to us, as they couldn't resist asking me questions and oohing and ahhing. Everyone's first thought was that I was knitting baby clothes, but no, just a simple dog sweater. :)

Now I'm off to work. It's wierd having my dad come pick me up, but since we're going straight to the airport after work, I don't want to have my own car and have the parking hassle. Why are we off to the airport? AARON'S HOME! My younger brother (well, everyone's younger since I'm the oldest of the 4) left exactly 1 year ago this weekend to do a semester of university in Australia. Next thing you know he winds up on a reality TV show, decides to stay there and ends up staying for a whole year. Last weekend my other brother flew down to LA to meet him on his way back, they spent the week together in LA going to show tapings and stuff, and will be arriving back in Montreal tonight. It will be very strange to see Aaron after not seeing him for so long. Everything, all the holidays, birthdays, etc... happened this year without him here.

So I don't know if I'll get a change to blog later, but if not have a great weekend!

posted by Jennifer Lori @ 11:21 a.m.


About Me
Name: Jennifer Lori
Home:
Ravelry Username: jenniferlori
About Me:
See my complete profile

Click here to add yourself to my Frappr map!
Email Me
jeloca[at]sympatico[dot]ca
Previous Post
Where to Get Patterns, Help or Other Stuff
Links to Errata
Podcasts I Listen To
Groups
Secret Pal 12 Questionnaire
---

---
the montreal knitting guild
---

---

---


Join | List | Previous | Next | Random
---


Previous | Next

---


Previous | Next
---

---


previous | next
---


Webring is owned by
handmade by jennifer
Previous | Next | List
---
Blog Canada
Previous | Next
Join | List
---
Master Knitters Ring
Prev | Next | List | Random
---
Knitalongs I've Done
---
---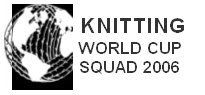 ---
Archives
Labels
Template by