Free Patterns
here to join my Yahoo group and have me send you news about the latest free patterns
Sale Patterns
I Want to Knit
Friday, January 28, 2005
Are these days getting longer, or is it just me?
UGH days pass soooooooo ssssssssllllllllloooooooooowwwwwww when you're sick! And I have a feeling I'm at the lingering part of the virus, where it's not sick enough that people feel sorry for you, but still sick enough that you feel crappy but can't complain because they'll say you're not really "sick" any more. And I still can't swallow.

Luckily Yannick's not home yet and I have at least an hour before he gets here, another hour after that before Julie and Rich show up for our bi-monthly card game. Which means I can finally get something accomplished! I'm having my most unproductive week ever. 3 sweaters due, 1 scarf plus photo of said scarf...and nothing to show for it but a garbage bin of wadded up Kleenexes and a half-empty box of Riccola. No knitting.

I'd like to work even longer tonight but I haven't mastered the art of knitting while playing cards. If we were doing anything else I could, but I need my hands every second to throw out my cards, and it's almost not worth it to pick up the knitting when its someone else's turn to deal, 'cus I wouldn't even get a row finished. Well, at least I have those 2 hours now.

*cough, cough*

*whimper*

Someone feel sorry for me?

*sigh*

posted by Jennifer Lori @ 6:53 p.m.


About Me
Name: Jennifer Lori
Home:
Ravelry Username: jenniferlori
About Me:
See my complete profile

Click here to add yourself to my Frappr map!
Email Me
jeloca[at]sympatico[dot]ca
Previous Post
Where to Get Patterns, Help or Other Stuff
Links to Errata
Podcasts I Listen To
Groups
Secret Pal 12 Questionnaire
---

---
the montreal knitting guild
---

---

---


Join | List | Previous | Next | Random
---


Previous | Next

---


Previous | Next
---

---


previous | next
---


Webring is owned by
handmade by jennifer
Previous | Next | List
---
Blog Canada
Previous | Next
Join | List
---
Master Knitters Ring
Prev | Next | List | Random
---
Knitalongs I've Done
---
---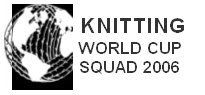 ---
Archives
Labels
Template by