Free Patterns
here to join my Yahoo group and have me send you news about the latest free patterns
Sale Patterns
I Want to Knit
Friday, January 28, 2005
...lingering...
...is what this stupid virus is doing. RRR I was looking forwards to getting some knitting done last night, for the first time since Tuesday. I sat down to prepare everything...nope. Head swirly. Nose runny. Throat coughy. Feeling sicky. I couldn't concentrate long enough to get anything done. Then again, I had worked from 9-8 at the store. I think I used up all my energy there. Hopefully I'll get something accomplished today. What a horrible time go get sick: Vegas scarf picture is due, along with 3 sweaters for the pet store! I don't want to wind up taking too long and looking unprofessional just 'cus I caught a stupid virus that's going around. RRR.

To Stacey from the comments and Auntie Mimi:
Thanks for the info on International Coffees, right in my grocer's aisle :) I'll be looking next time I go to the store.

To Orris from the comments:
Thanks for the Buckley's suggestion. Can I get those in Canada? Right now I'm surviving thanks to gargling with salt water and a nightly NeoCitran. Oh, and thanks for the hot toddy suggestion too. I don't think it's a good idea in my present state to operate any heavy machinery...you know, like stoves or microwaves. But I'll file the suggestion for when Yannick is home to make one for me :) My grandmother also suggested something she learned from her mother-in-law, called a Guggle-Muggle. Basically it's hot chocolate with an egg yolk in it. You mix some sugar, egg yolk and cocoa powder in a glass, whisking, while warming milk on the stove. Once warm, you slowly add the mixture, then drink. Supposed to be very soothing too.

Phone just rang: dad saying "leave now." So I leave now.

posted by Jennifer Lori @ 9:11 a.m.


About Me
Name: Jennifer Lori
Home:
Ravelry Username: jenniferlori
About Me:
See my complete profile

Click here to add yourself to my Frappr map!
Email Me
jeloca[at]sympatico[dot]ca
Previous Post
Where to Get Patterns, Help or Other Stuff
Links to Errata
Podcasts I Listen To
Groups
Secret Pal 12 Questionnaire
---

---
the montreal knitting guild
---

---

---


Join | List | Previous | Next | Random
---


Previous | Next

---


Previous | Next
---

---


previous | next
---


Webring is owned by
handmade by jennifer
Previous | Next | List
---
Blog Canada
Previous | Next
Join | List
---
Master Knitters Ring
Prev | Next | List | Random
---
Knitalongs I've Done
---
---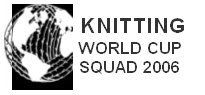 ---
Archives
Labels
Template by