Free Patterns
here to join my Yahoo group and have me send you news about the latest free patterns
Sale Patterns
I Want to Knit
Friday, February 11, 2005
Friday, after the fact
(actually being posted on Feb 21 'cus I was too busy/lazy to post on time)

I was exhausted because I only got 15 minutes of sleep all night. Yannick got home very late and I'd been worried and the whole anxiety thing kept me up all night. At least I didn't have to worry about him catching me knitting his Valentine's Day mittens though.

After work I was too upset about last night to go right home, so I changed my plans for the evening and went to a local Cafe Depot and tried to get some knitting in before friends came to meet me. I did manage to do 1 repeat on the Mock Cable dog sweater even though it wasn't as much as I would have liked. The evening wasn't a total bust, though, because it had been a long time since I'd played either Liverpool or A$$h0le (card games) so that was fun. I also got to discover that a Soda Europa (Sprite soda with flavored syrups) is pretty good when you mix Banana and Mandarin Orange.

Once the night was over I was still too upset to go home, so I had a friend grab a bag of clothes for me and I stayed at my parents' place. My sister was at a friend's place I stayed in her room. Now I know why she sleeps in until 5pm every day- her bed is SO comfortable! She sleeps on like 9 pillows and under 2 blankets in duvet covers...it was like sleeping in a cloud.
posted by Jennifer Lori @ 11:54 a.m.


About Me
Name: Jennifer Lori
Home:
Ravelry Username: jenniferlori
About Me:
See my complete profile

Click here to add yourself to my Frappr map!
Email Me
jeloca[at]sympatico[dot]ca
Previous Post
Where to Get Patterns, Help or Other Stuff
Links to Errata
Podcasts I Listen To
Groups
Secret Pal 12 Questionnaire
---

---
the montreal knitting guild
---

---

---


Join | List | Previous | Next | Random
---


Previous | Next

---


Previous | Next
---

---


previous | next
---


Webring is owned by
handmade by jennifer
Previous | Next | List
---
Blog Canada
Previous | Next
Join | List
---
Master Knitters Ring
Prev | Next | List | Random
---
Knitalongs I've Done
---
---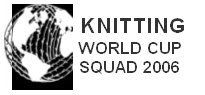 ---
Archives
Labels
Template by