Free Patterns
here to join my Yahoo group and have me send you news about the latest free patterns
Sale Patterns
I Want to Knit
Sunday, January 23, 2005
Recapping Friday
Whew! Finally a chance to sit down and go over the past few days!

Friday I met with Michelle from the pet accessories store. I thought our meeting went well. She seemed to really like the sweaters I'd brought her and even mentioned possibly using the one with the faux fur in their April fashion show. I left her the three sweaters for now, and she gave me 2 sweater orders and a request for the cabled aran one I was going to make as a sample.

That's really all that happened Friday, other than the fact that I got to go to my LYS after work because I needed 5mm and 6mm addi Turbos for my workshop Saturday, along with some Alafoss Lopi for one of the projects. Ok, yes my Denise set includes the 5mm and 6mm sizes. But really, any excuse to buy an addi is a good excuse for me! I'm buying them all in 80cm (40") sizes because I Magic Loop everything, and I'm now only missing a few sizes. Very happy me! I bought the Lopi in a bright, Christmas red, because that's the color Yannick suggested when I asked him what color hat I should make for myself. He said red would be cute against my blonde hair and blue eyes. I think I look stupid in all hats, especially one whose pattern calls it a "tam", but whatever. I bought the red. I also bought a second skein of Paton's Canadiana in Pale Pink so I can do the two commissioned dog sweaters. I already had one skein.

posted by Jennifer Lori @ 3:23 p.m.


About Me
Name: Jennifer Lori
Home:
Ravelry Username: jenniferlori
About Me:
See my complete profile

Click here to add yourself to my Frappr map!
Email Me
jeloca[at]sympatico[dot]ca
Previous Post
Where to Get Patterns, Help or Other Stuff
Links to Errata
Podcasts I Listen To
Groups
Secret Pal 12 Questionnaire
---

---
the montreal knitting guild
---

---

---


Join | List | Previous | Next | Random
---


Previous | Next

---


Previous | Next
---

---


previous | next
---


Webring is owned by
handmade by jennifer
Previous | Next | List
---
Blog Canada
Previous | Next
Join | List
---
Master Knitters Ring
Prev | Next | List | Random
---
Knitalongs I've Done
---
---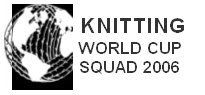 ---
Archives
Labels
Template by