Free Patterns
here to join my Yahoo group and have me send you news about the latest free patterns
Sale Patterns
I Want to Knit
Sunday, December 05, 2004
spirt
u.t. and i. send or come out in a jet.- n. jet. [orig. uncertain]

Wow. I honestly did not know that spirt was a word. As such, I feel I have no obligation to make it fit into my post. Yep, changing the rules as I see fit people. My blog.

Has this ever happened to someone else? I was brushing my hair earlier, and ran my fingers through 'cus a) I have really, really long hair, and b) due to said longness, it tends to break a bit when I brush it and I'd rather catch broken pieces now than try to pull them off my clothes. I don't know how or what I did, but when I looked at my hand the hair was PERFECTLY shaped like a thrum! Yes, I actually entertained the thought of a pair of mittens. No, I threw out the hair and will go bang my head against a wall for a few minutes to get rid of the thought.

Be amused. Be afraid. Be very, very sad for me.

posted by Jennifer Lori @ 10:50 a.m.


About Me
Name: Jennifer Lori
Home:
Ravelry Username: jenniferlori
About Me:
See my complete profile

Click here to add yourself to my Frappr map!
Email Me
jeloca[at]sympatico[dot]ca
Previous Post
Where to Get Patterns, Help or Other Stuff
Links to Errata
Podcasts I Listen To
Groups
Secret Pal 12 Questionnaire
---

---
the montreal knitting guild
---

---

---


Join | List | Previous | Next | Random
---


Previous | Next

---


Previous | Next
---

---


previous | next
---


Webring is owned by
handmade by jennifer
Previous | Next | List
---
Blog Canada
Previous | Next
Join | List
---
Master Knitters Ring
Prev | Next | List | Random
---
Knitalongs I've Done
---
---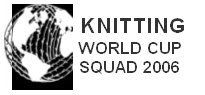 ---
Archives
Labels
Template by