Free Patterns
here to join my Yahoo group and have me send you news about the latest free patterns
Sale Patterns
I Want to Knit
Sunday, June 11, 2006
Knitting World Cup Kickoff!
So the Knitting World Cup kickoff was on the 9th at whatever time the whistle blew. I didn't worry about starting on time because I knew I had a time delay, which I calculated as follows:
Time it took to knit 1 base row: 1 min 46 sec - we'll round that up to 2 min.
# of rows in the base knit so far: 50

Time it took to knit 1 body row: 6 min 58 sec - we'll round that up to 7 min.
# of rows already knit in the body: 36

My calculations told me a delay of 6-ish hours was needed. I played it safe and only started working on it today at the Montreal Knitting Guild's year-end meeting, the Garden Party (held indoors due to rain). Robyn came with me, and we had a pretty good time. Afterwards we went to Wal-Mart, then she came over and knit for a bit after helping me choose what to wear to my bridal shower tomorrow.

Tonight Yannick and I had some dinner and watched X-Men 2 and a DVD I will only refer to by its initials: P.O.T.P. Thanks Robyn! *groan*

KWC day # 1 update: I started today on row 37. I am now at row 54. Of a really big, really boring knit. In all black. This is going to take forever.
posted by Jennifer Lori @ 12:37 a.m.


About Me
Name: Jennifer Lori
Home:
Ravelry Username: jenniferlori
About Me:
See my complete profile

Click here to add yourself to my Frappr map!
Email Me
jeloca[at]sympatico[dot]ca
Previous Post
Where to Get Patterns, Help or Other Stuff
Links to Errata
Podcasts I Listen To
Groups
Secret Pal 12 Questionnaire
---

---
the montreal knitting guild
---

---

---


Join | List | Previous | Next | Random
---


Previous | Next

---


Previous | Next
---

---


previous | next
---


Webring is owned by
handmade by jennifer
Previous | Next | List
---
Blog Canada
Previous | Next
Join | List
---
Master Knitters Ring
Prev | Next | List | Random
---
Knitalongs I've Done
---
---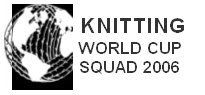 ---
Archives
Labels
Template by