Free Patterns
here to join my Yahoo group and have me send you news about the latest free patterns
Sale Patterns
I Want to Knit
Thursday, November 25, 2004
I'm not that late!
Ok, so I'm 37 minutes late for my 1-post-per-day trial system. But it's Yannick's fault, I swear! We went out for dinner, and then watched CSI:NY and then he went on and on about possessed stuffed animals...it was all I could do to break away and come send this message. Besides, I could have changed the message time and lied, and then no one would ever know. But I didn't. I'm honest. Honest!
But I'm not coming empty handed...I've got THIS:



Yes, ladies and gentlemen, this is Piggy Progress! Tomorrow I work on the cute little scarf to keep this piggy's bacon warm, and its all ready to be gifted! Woo hoo!

posted by Jennifer Lori @ 12:37 a.m.


About Me
Name: Jennifer Lori
Home:
Ravelry Username: jenniferlori
About Me:
See my complete profile

Click here to add yourself to my Frappr map!
Email Me
jeloca[at]sympatico[dot]ca
Previous Post
Where to Get Patterns, Help or Other Stuff
Links to Errata
Podcasts I Listen To
Groups
Secret Pal 12 Questionnaire
---

---
the montreal knitting guild
---

---

---


Join | List | Previous | Next | Random
---


Previous | Next

---


Previous | Next
---

---


previous | next
---


Webring is owned by
handmade by jennifer
Previous | Next | List
---
Blog Canada
Previous | Next
Join | List
---
Master Knitters Ring
Prev | Next | List | Random
---
Knitalongs I've Done
---
---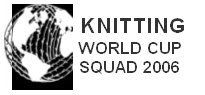 ---
Archives
Labels
Template by