Free Patterns
here to join my Yahoo group and have me send you news about the latest free patterns
Sale Patterns
I Want to Knit
Saturday, November 27, 2004
Seeing a trend
It has come to my attention that in order to be a knitter, a blogger, and/or both, I must own a cat. There are many sites that confirm this theory, see Yarn Harlot or Wendy Knits! on the sidebar for some proof. Luckily, as it happens, I do own a cat. Phew! For a minute there I thought I'd have to give up knitting, blogging, and/or both!
World, meet Sam:



NOTE: for those of you unfamiliar with cats, Sam is the white furry animal in the picture.

Sam is 4, thoroughly spoiled, and believes himself to be a dog. I haven't actually had a conversation with him in which he said "I think I'm a dog", nor has he signed up for any trans-gender support groups, but based on his actions lately, I'm infering. (How many cats do you know who play fetch? And for those of you raising your hands, running after a toy then losing interest and sniffing disdainfully isn't considered playing fetch. That's being a cat. Sam actually runs after the stick and brings it back, drops it at my feet and meows as if to say "more". That's playing fetch.)

Now, since this is a knitting blog, it is very lucky for me that Sam tends to turn up when I'm knitting. It is also lucky for me that I usually have my Palm on me at the time so I can take pictures that probably only I find entertaining.

World, meet Sam and knitting:




Just thought I'd share!






posted by Jennifer Lori @ 5:38 p.m.


About Me
Name: Jennifer Lori
Home:
Ravelry Username: jenniferlori
About Me:
See my complete profile

Click here to add yourself to my Frappr map!
Email Me
jeloca[at]sympatico[dot]ca
Previous Post
Where to Get Patterns, Help or Other Stuff
Links to Errata
Podcasts I Listen To
Groups
Secret Pal 12 Questionnaire
---

---
the montreal knitting guild
---

---

---


Join | List | Previous | Next | Random
---


Previous | Next

---


Previous | Next
---

---


previous | next
---


Webring is owned by
handmade by jennifer
Previous | Next | List
---
Blog Canada
Previous | Next
Join | List
---
Master Knitters Ring
Prev | Next | List | Random
---
Knitalongs I've Done
---
---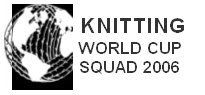 ---
Archives
Labels
Template by