Free Patterns
here to join my Yahoo group and have me send you news about the latest free patterns
Sale Patterns
I Want to Knit
Monday, March 20, 2006

After dinner Koko came over and the 3 of us watched Waiting. I love Ryan Renolds. Funny movie. Don't watch it if you ever want to eat in a restaurant again. I needed something to knit during the movie and wanted to pay attention to the Clapotis pattern but the movie actually makes you watch more often than not, so I made up a little swatch. It's dk weight yarn and I didn't measure it yet, so I'm not sure if I get the 19st/25row gauge the pattern calls for, but you know what? It's a scarf. I'm not worried. If you look closely you can see how the bottom is plied with paler colors, and it gets more red in the middle, and as it gets towards the top it starts being plied with some purple. I can't wait to see the shots of blue and green pop in. I really, really love this colorway. There is a sheen to the yarn that is probably 'cus it's acrylic but I swear if I look really close at it I think it's silk. I think I'm really going to enjoy knitting this. I hope it doesn't stick for the dropped stitches.
posted by Jennifer Lori @ 12:34 a.m.


About Me
Name: Jennifer Lori
Home:
Ravelry Username: jenniferlori
About Me:
See my complete profile

Click here to add yourself to my Frappr map!
Email Me
jeloca[at]sympatico[dot]ca
Previous Post
Where to Get Patterns, Help or Other Stuff
Links to Errata
Podcasts I Listen To
Groups
Secret Pal 12 Questionnaire
---

---
the montreal knitting guild
---

---

---


Join | List | Previous | Next | Random
---


Previous | Next

---


Previous | Next
---

---


previous | next
---


Webring is owned by
handmade by jennifer
Previous | Next | List
---
Blog Canada
Previous | Next
Join | List
---
Master Knitters Ring
Prev | Next | List | Random
---
Knitalongs I've Done
---
---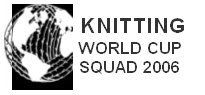 ---
Archives
Labels
Template by