Free Patterns
here to join my Yahoo group and have me send you news about the latest free patterns
Sale Patterns
I Want to Knit
Tuesday, September 14, 2004
Third time's a charm!
I finished my sock swatch yesterday and measured it around a drinking glass 'cus I didn't leave the trails in the back long enough to stretch it out flat. Happily, I was exactly on my gauge, so I promptly ripped it out to start the socks.

Scary thing those dpns for the first time!

I cast on all 68 sts, on to 2 needles like I'd done for my 2nd swatch, 'cus I found it too hard to knit into the cast on when it was tight on one needle, I kept splitting the yarn. I divided those looser cast-on sts onto 4 needles...and instantly saw there was no way I'd manage that on 4 dpns (knit with the 5th). They were too loose and it was impossible to keep them untwisted. I undid everything and cast on again on 2 ndeedles...but this time did a row of the k2, p2 ribbing before dividing the sts onto 4 needles and joining. I thought it made it easier, but then I didn't know if I was knitting into the inside or outside of the sock, so I did about 2 more rows in the rib trying to follow knit the knits and purl the purls ('cus I'm in the round), but after 4 rows I didn't have anything that looked like a ribbing...it looked more like a drunken garter stitch. So I undid everything again. Third time I got it. I cast on to 1 needle, just trying not to make it too tight, and divided my sts right away. I forced myself to go slow and do my first row of ribbing, keeping everything nice and tight... and it worked! I did about 5 rows last night, and although I think I'm getting some laddering, my ribbing is actually looking like ribbing. So I'm happy. I'll do more tonight while Yannick bowls.

Oh, and if anyone can figure out how to insert a marker on dpns that WON'T fall off the moment you turn the work, could you please let me know? I had to resort to a crochet marker that slips onto the stitch itself, 'cus there's no way I'm getting a ring to stay on these ndls.

posted by Jennifer Lori @ 11:29 a.m.


About Me
Name: Jennifer Lori
Home:
Ravelry Username: jenniferlori
About Me:
See my complete profile

Click here to add yourself to my Frappr map!
Email Me
jeloca[at]sympatico[dot]ca
Previous Post
Where to Get Patterns, Help or Other Stuff
Links to Errata
Podcasts I Listen To
Groups
Secret Pal 12 Questionnaire
---

---
the montreal knitting guild
---

---

---


Join | List | Previous | Next | Random
---


Previous | Next

---


Previous | Next
---

---


previous | next
---


Webring is owned by
handmade by jennifer
Previous | Next | List
---
Blog Canada
Previous | Next
Join | List
---
Master Knitters Ring
Prev | Next | List | Random
---
Knitalongs I've Done
---
---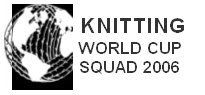 ---
Archives
Labels
Template by