Free Patterns
here to join my Yahoo group and have me send you news about the latest free patterns
Sale Patterns
I Want to Knit
Sunday, September 12, 2004
Happy Birthday Jackie!
The birthday bonanza continues!

I not only had the most incredible birthday, but it's not over yet! See, my mom made the mistake of telling Yannick that I wasn't born until 2:29pm. So neither of them wished me a happy bday until then. But I made Yannick promise I'd get a full 24 hour day birthday to celebrate with him...so from now on every year my birthday with Yannick lasts until 2:29pm the following day. So sleepy as I still am...happy birthday to me! And Happy Birthday Jackie! I know I'm imposing on your birthday today, but we already shared a midnight so I hoped you wouldn't mind too much. (Plus you stole some of my day yesterday and celebrated early) :)

Last night when I finished working Yannick took me for TONS of yummy sushi, and then we went to see The Notebook. To everyone who saw the underrated commercials and wrote it off- GO SEE IT! Everyone should see it, especially anyone in a relationship. (And it's not just me saying that, Yannick agrees). I just wish someone would have warned us to bring Kleenex.

On the knitting front, I ended up ripping out my sock swatch yesterday. I'm making it flat but faking stockinette in the round by leaving long tails behind the work...and mistakenly did the first 18 rows of the swatch at the exact number of stitches the swatch calls for. But when you leave the long tails the first and last stitch of each row (at least) get all pulled out of shape, and I won't get a true measurement. So I re-cast on with about 10 extra stitches, and I'll do a larger swatch and measure within the crappy borders. I just hope I get the swatch done before the holidays next week...I'd like to bring the sock along to work on.

posted by Jennifer Lori @ 11:07 a.m.


About Me
Name: Jennifer Lori
Home:
Ravelry Username: jenniferlori
About Me:
See my complete profile

Click here to add yourself to my Frappr map!
Email Me
jeloca[at]sympatico[dot]ca
Previous Post
Where to Get Patterns, Help or Other Stuff
Links to Errata
Podcasts I Listen To
Groups
Secret Pal 12 Questionnaire
---

---
the montreal knitting guild
---

---

---


Join | List | Previous | Next | Random
---


Previous | Next

---


Previous | Next
---

---


previous | next
---


Webring is owned by
handmade by jennifer
Previous | Next | List
---
Blog Canada
Previous | Next
Join | List
---
Master Knitters Ring
Prev | Next | List | Random
---
Knitalongs I've Done
---
---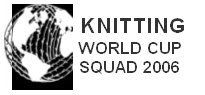 ---
Archives
Labels
Template by