Free Patterns
here to join my Yahoo group and have me send you news about the latest free patterns
Sale Patterns
I Want to Knit
Monday, February 20, 2006
Open Letter To Anyone Who Reads My Blog
Instead of filling in my sidebar with links to blogs that I like to read, I'd like to throw some hits your way by posting links to blogs of people who read my site. I only keep up this blog because I like hearing from you guys, and maybe this will get some traffic over to your sites. Also, I'll be able to visit you guys more often and get to know you.

If you read my site and have a blog please leave a comment with your first name and blog address. If you don't have a blog then please leave your email address (if you wish) or just your name. If you have a blog but don't want it public (like you Robyn) then I can link to your email address, or just put your name. I'd like to put up a list over the next few days.

On a purely selfish note, I have a hard time believing anyone actually comes to my site besides family, so this is a cool way for me to get to know you too! :)

I'm going to repost this message every once in a while.
posted by Jennifer Lori @ 2:59 p.m.


About Me
Name: Jennifer Lori
Home:
Ravelry Username: jenniferlori
About Me:
See my complete profile

Click here to add yourself to my Frappr map!
Email Me
jeloca[at]sympatico[dot]ca
Previous Post
Where to Get Patterns, Help or Other Stuff
Links to Errata
Podcasts I Listen To
Groups
Secret Pal 12 Questionnaire
---

---
the montreal knitting guild
---

---

---


Join | List | Previous | Next | Random
---


Previous | Next

---


Previous | Next
---

---


previous | next
---


Webring is owned by
handmade by jennifer
Previous | Next | List
---
Blog Canada
Previous | Next
Join | List
---
Master Knitters Ring
Prev | Next | List | Random
---
Knitalongs I've Done
---
---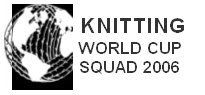 ---
Archives
Labels
Template by